Make your business look great in employee t-shirts you'll love.
You'll get top shelf results when you work with the team that makes outfitting your employees their business. Serving your needs connects us and allows us to put your success before our own. You're going to love your employee t-shirts.

Free Design
Our staff of expert designers are here to help you create the best design for your employee t-shirts. And the best part is, custom design is free.

Free Shipping
Your employee t-shirts will arrive on time with our free 2-week delivery. Rush or Miracle Delivery are available when needed.  Charges apply.

In Business For You
We're in business to serve your business. If we can help unite your employees and improve your bottom line, we know we've done our job.

Your Guarantee
We guarantee your shirts will arrive just as promised and right on time, every time. If you're not 100% happy, we promise to make it right.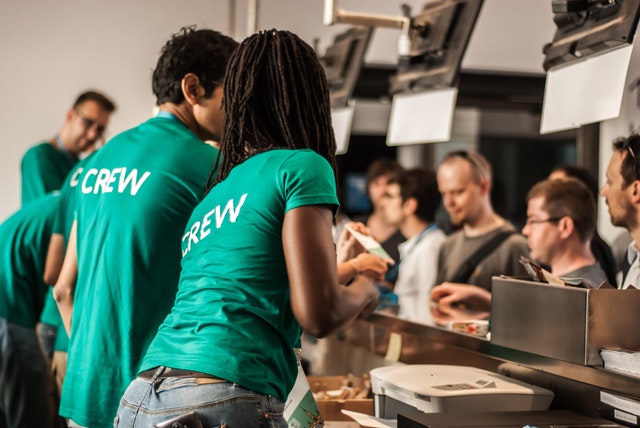 Get Employee T-Shirts That Rock Their World
Happy employees make for happy employers. And one simple way to help them feel part of a happy team is with employee t-shirts that make them proud of where they work.
Sure, there's a lot more important things your business should do to maintain employee satisfaction, but we've seen and heard it again and again – "Our employees love their shirts! Thank you for making us feel like a team!"
So let's look at 3 ways employee t-shirts can help your staff feel even better about serving with your business.
1 – Team Building
Everybody wants to feel part of something – especially something as important as the product or service your business provides. But it can also be easy to feel like a job is "just a job" and forget how much fun it can be to work together for a purpose. So help them see one another as a united group, and themselves as part of a cohesive whole by outfitting them in employee t-shirts they can feel proud of.
2 – Standing Out for Quality
When your employees wear your t-shirts in public, whether for work or during their time off, they are representing your company for the quality venture it is. And if they feel proud to show off who they work for, even more so. So if your product or service is great (and we're sure it is), and is known for being of great quality, your employees will feel great wearing it wherever they go.
3 – Embracing the Culture
Your company culture can be the most valuable asset you own. But it is delicate and can be crushed by poor management or misuse. As you work to build a culture within your company that encourages creativity, unity, and high value for your customers, your employees will adopt it even more so with employee t-shirts that express your culture well.
Custom employee t-shirts will make your employees feel part of the team, stand up for the quality of your product or service, and help them embrace the business culture you're trying to build.